Bhikkhu Ordination - 4th July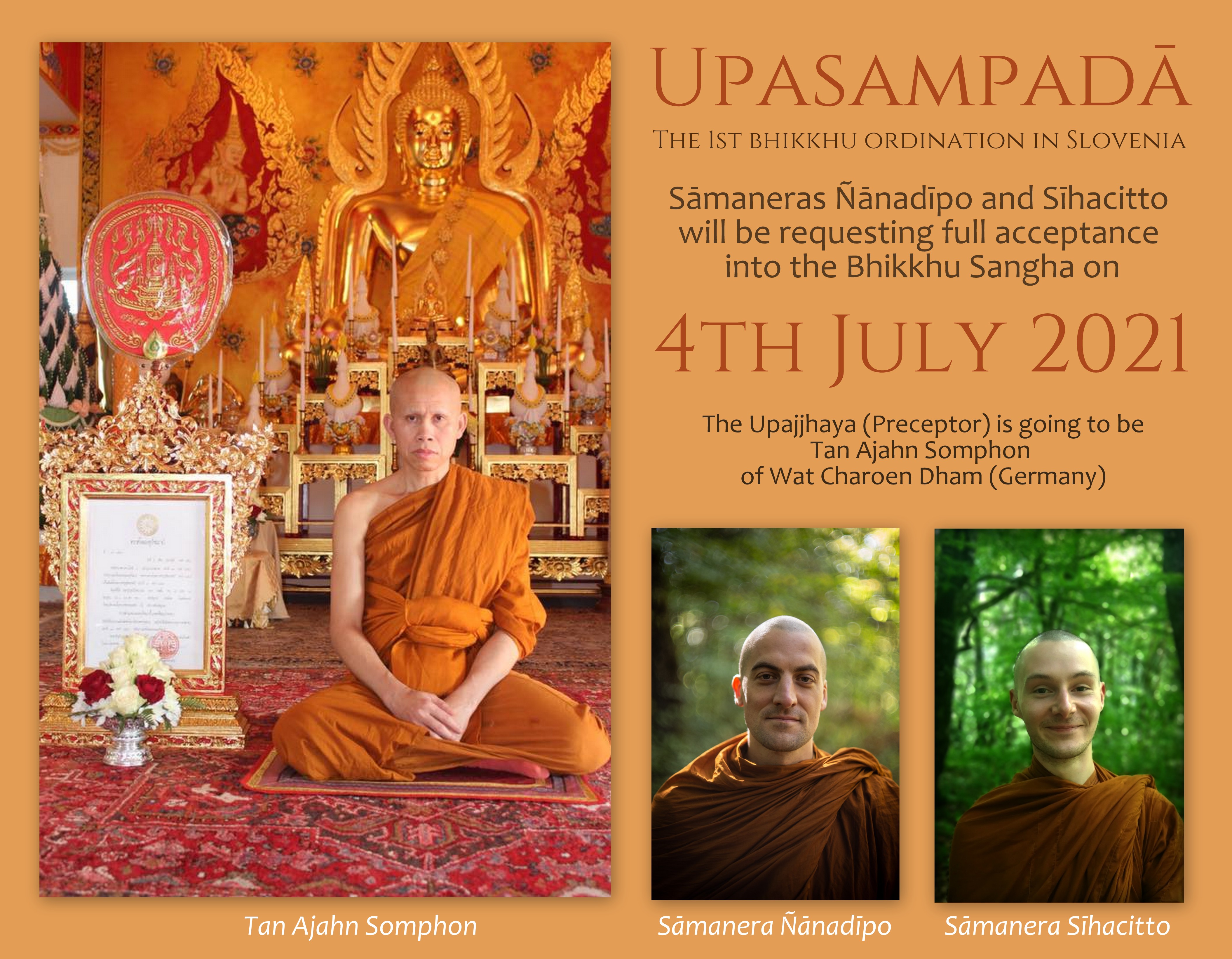 ---
ENGLISH
Sāmaṇeras Ñāṇadīpo and Sīhacitto will be requesting full acceptance into the Bhikkhu Saṅgha on Sunday, 4 July.
It will be a historical event since this is going to be the first Upasampada in Slovenia! The Upajjhaya (Preceptor) is going to be a Thai senior monk, Tan Ajahn Somphon of Wat Charoen Dham (Germany). He will be also arriving with two "chanting acariyas" and with other three monks. The ceremony will take place in the under the Sala (kozolec). All are welcome to attend.
MORE ABOUT ORDINATION
Upasampadā (Pali) literally denotes "approaching or nearing the ascetic tradition." In more common parlance it specifically refers to the rite and ritual of ascetic vetting (ordination) by which a candidate, if deemed acceptable, enters the community as upasampadān (ordained) and authorised to undertake ascetic life.
According to Buddhist monastic codes (Vinaya), a person must be 20 years old in order to become a monk or nun. Traditionally, the upasampadā ritual is performed within a well-demarcated and consecrated area called sima (sima malaka) and needs to be attended by a specified number of monks: "ten or even five in a remoter area".
THE PROGRAM
(The program might be slightly updated closer to the time)
8:30 Arrival of the Thai Ambassador H.E. Ms. Morakot Sriswasdi
9:15 – 10:00 Upasampada ceremony for the two samaneras (novices) with ten bhikkhus (fully ordained monks) present.
11:00 Pindapata, offering meal (dana).
11:30 A meal for everyone.
12:30 Departure of the Thai Sangha.
---
SLOVENSKO
Sāmaṇere Ñāṇadīpo in Sīhacitto bosta v nedeljo, 4. julija, zaprosila za popoln sprejem v bhikkhu saṅgho.
To bo zgodovinski dogodek, saj bo to prva upasampada v Sloveniji! Upajjhaya (Preceptor) bo tajski starejši menih Tan Ajahn Somphon iz Wat Charoen Dham (Nemčija). Prišel bo tudi z dvema "skandirajočimi tlačiteljema" in z drugimi tremi menihi. Slovesnost bo pod kozolcem. Vabljeni vsi.
VEČ O POSVEČENJU
Upasampadā (Pali) dobesedno pomeni »približevanje ali približevanje asketski tradiciji«. V bolj običajnem jeziku se izrecno nanaša na obred in obred asketskega preverjanja (posvečenja), s katerim kandidat, če se mu zdi sprejemljiv, vstopi v skupnost kot upasampadān (posvečen) in pooblaščen za asketsko življenje.
V skladu z budističnimi samostanskimi zakoni (Vinaya) mora biti oseba stara 20 let, da postane menih ali nuna. Običajno se obred upasampadā izvaja na dobro označenam in posvečenem območju, imenovanem sima (sima malaka), udeležiti pa se ga mora določeno število menihov: "deset ali celo pet na oddaljenejšem območju".
PROGRAM
(Program bo morda nekoliko posodobljen bližje času)
8:30 Prihod tajske veleposlanice Nj.E. Gospa Morakot Sriswasdi.
9:15 - 10:00 Slovesnost upasampade za oba samanera (novinca) z desetimi menihi (popolnoma posvečenimi menihi).
11:00 Pindapata, ponudba obroka (dana).
11:30 Obrok za vse.
12:30 Odhod tajske Sanghe.