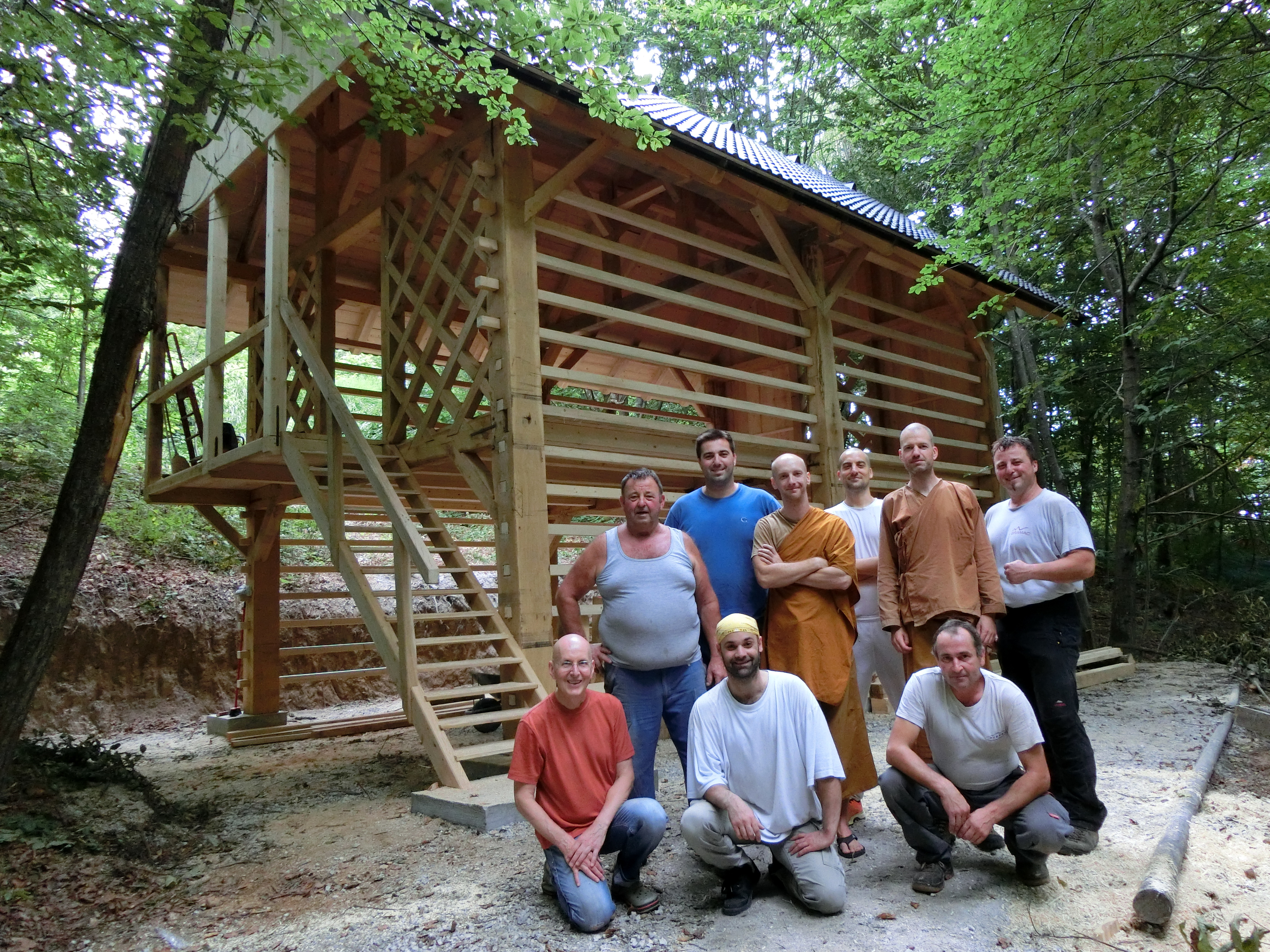 A NEW UPOSATHA SALA
Since the beginning of the Forest Hermitage, there was a constant call for a bigger space. Many might know that our current 16m2 big Shrine Room is far too small for our needs. And now finally came time that we build a simple Uposatha Sala using a Slovenian traditional hayrack (toplar) which can be max 40m2 big (https://en.wikipedia.org/wiki/Hayrack). With such structure, we would preserve Slovenian tradition as well as the simplicity of the monastic forest tradition. It will be used for meal offerings, receiving guests, meditation, study programs, monks' recitations and for ordinations.
If you like to be part of the project, feel welcome to use it to support it.
Total building project of the first phase would cost around 15.300,00 EUR. For the second faze (glass wall, insulation of the second floor) still has to be determined.
NOVA UPOSATHA SALA - TOPLAR
Že od začetka gozdnega samostana je bil nenehni klic po večjem prostoru. Mnogi dobro veste, da je naša sedanja oltarna soba, veliko 16 m2, za naše potrebe premajhna. In zdaj je končno prišel čas, da zgradimo preprosto uposatha-salo z uporabo slovenskega tradicionalnega kozolca (toplar), ki je lahko velik največ 40m2. S takšno strukturo bi ohranili slovensko tradicijo kot pa tudi preprostost samostanske gozdne tradicije. Če želite sodelovati v projektu, ste vabljeni, da ga podprete. Uporabljali ga bomo za ponudbo obrokov, sprejem gostov, meditacijo, študijske programe, recitacije menihov in za ordinacije.
Cena prve faze gradnje (tradicionalni toplar) je 15.000 EUR. Cena za drugo fazo (steklena stena in izolacija v zgornjem delu) še ni določena.
Currently donated / trenutno doniranih: 23.418,00 EUR.
Sadhu Anumodana! Hvala vsem! (2-9-2020)
Bank transfer / Bančni transfer:
Gozdni budistični samostan Samanadipa
Goljek 3, 8210 Trebnje, Slovenija
(The Bank / banka: Delavska hranilnica d.d.
Miklošičeva cesta 5, 1000 Ljubljana)
IBAN: SI56610000023637792
BIC/SWIFT: HDELSI22
Purpose / Zadeva: Sala
Online Donation (via PayPal):

More about Toplar (from Wikipedia):
A hayrack (Slovene: kozolec) is a freestanding vertical drying rack found chiefly in Slovenia. Hayracks are permanent structures, primarily made of wood, upon which fodder for animals is dried, although their use is not limited to drying hay. Other food stuffs such as field maize are dried on them as well. Although it is a practical structure, a hayrack is often artistically designed and handcrafted and is regarded by Slovenes as a distinctive form of vernacular architecture that marks Slovene identity.
Names and typology: Slovenian names for the hayrack include kozolec and kazuc (colloquial, usually referring to a single straight-line hayrack), stog (commonly found in Upper Carniola and especially in the area around Studor in the Bohinj region), and toplar. Both kozolec and kozuc are probably diminutive forms of kozel 'goat', referring to a branching structure used for holding and drying hay or grain (cf. the similarly motivated German Sägebock and U.S. English sawbuck). The word stog also refers to a haystack and is derived from Common Slavic stogъ 'stack, heap'. The word toplar (or doplar) is borrowed from Austrian German Doppler, referring to a double structure in general.
PHOTOS OF THE PROGRESS