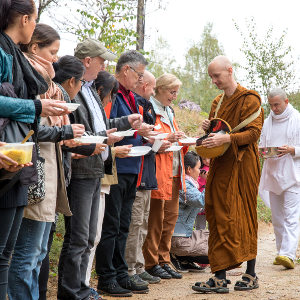 - Više od 2600 godina redovnička je tradicija preživjela isključivo zahvaljujući podršci svjetovne zajednice. Redovnici ne smiju uzgajati ni kuhati svoju hranu, niti rukovati novcem. Do današnjeg dana laičke zajednice u mnogim zemljama diljem svijeta velikodušno osiguravaju osnovne potrepštine redovnicima: hranu, odjeću, boravište i lijekove. Samaṇadīpa u potpunosti ovisi o donacijama. Redovnici daruju svoje znanje, usluge, svoje vrijeme i energiju potpuno besplatno, posvećujući cijeli svoj život prakticiranju Buddhina učenja. Laici koje to nadahnjuje zauzvrat pružaju podršku redovnicima. Ostavljeno je dobroj volji i diskreciji posjetitelja i dobronamjernika da odluče na koji način će podržati rad samostana.
Darežljivost je pozitivna kvaliteta ljudskog srca, koju je Buddha iznimno poticao zbog koristi koje donosi darivateljima u ovom životu i onkraj njega. Osim ako ih se jasno ne pozove da kažu što im treba, redovnici ne smiju ništa izravno zatražiti. Darežljivošću omogućujete redovnicima da nastave sa svojim poslom: primjenom i dijeljenjem Buddhinog učenja (Dhamme). Ovaj samostan i njegovi stanovnici nemaju drugih načina potpore.
Ako smatrate da naš samostan zavređuje podršku, možete učiniti nešto od ovoga:
1. Darivanje hrane i drugih stvari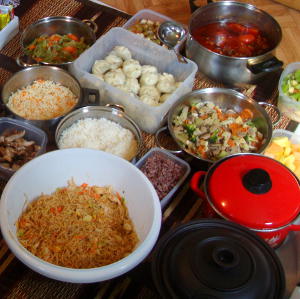 The Hermitage is closed bacause of Covid-19. Therefore the information below are not relevant during this period.
However, forest monks have to survive, but support can only be made only from a distance. The Committee therefore set up a system so that the monks could receive the most basic necessities of life. Instead of delivering the food personally to the hermitage or delivering it through online shops (which are already overloaded), we suggest that you make a financial donation for food. Then, when necessary, we will fill the monastery storeroom through a Mercator worker. This will protect all all and relieve the flow of support. And we are already very grateful for that. Please see more information below under Financial Support.
Naš objed počinje u 11h.
Postoje tri načina na koja možete darovati hranu:
1. Ako želite donijeti hranu i pridružiti nam se za objedom, molimo vas da nam se javite barem jedan dan unaprijed. Darivanje hrane redovničkoj zajednici pruža vam prigodu da nas posjetite i sudjelujete u samostanskom načinu života. Možete svoju hranu skuhati u našoj kuhinji, no imajte na umu da je kuhinja vrlo skromna i neki se ljudi ne osjećaju ugodno kad pripremaju hranu u tuđoj kuhinji. Ako je to slučaj, onda je jednostavnije da unaprijed skuhate jedan ili više obroka i donesete ih gotove.
Možete također darivati hranu za sljedeći dan, a voditelj kuhinje ju može zagrijati i ponuditi redovnicima u vaše ime.
2. Možete također darovati hranu koja može biti pohranjena u samostanskoj ostavi, tako da je gosti kasnije mogu koristiti za kuhanje obroka redovnicima.
3. Kao alternativa moguće je i darovati novac za pokrivanje troškova ručka. Drugi podržavatelji samostana ljubazno su prihvatili odgovornost da darovanim novcem kupe hranu ili/i pripreme obrok zajednici u vaše ime. Za više detalja vidi dolje.
Dana Suggestion List / Prijedlozi za darovanje
Prijatelje Samanadipe često zanima što trebamo. Molim vas da provjerite popis korisnih stvari u nastavku, uz neke dodatne korisne informacije.
Posodobljeno / Updated: 21. 3. 2020
The kitchen manager: Sm. Mahidipo
The store-monk: Bh. Phasuko
Koristni živilski izdelki / Helpful food items:
- kruh / bread
- mleko / milk; mleko v prahu / milk powder
- zelenjava / vegatables
- sadje / fruit
- mleta kava / ground coffee
- aršidovo maslo / peanut butter
- lešniki / nuts
- sir / cheese
- musli, kornfleks, ovseni kosmiči / musli, corn flakes, oat flakes
- konzervirana hrana / canned food
- omake v konzervi / canned souce
Ostale stvari / Other items:
- AAA baterije / AAA bateries
- papirnate brisače / kitchen roll
DELIVERY FROM ONLINE SHOP:
If you cannot come to the Hermitage, you might find useful another option: you could order food online and then the shop delivers food to our address (Goljek 3, Trebnje)
https://trgovina.mercator.si/market/

2. Financijska podrška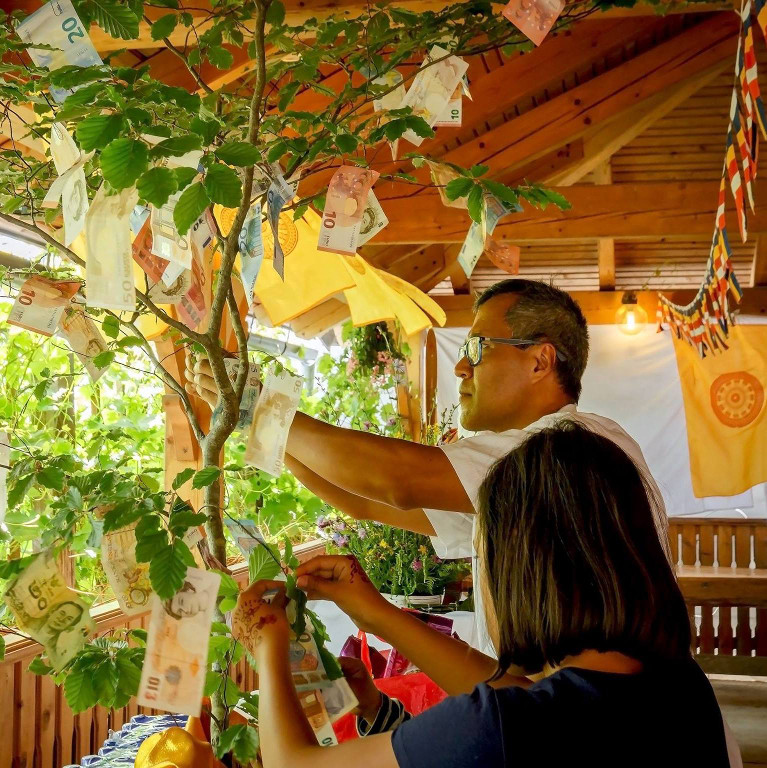 Donacije omogućuju da samostan ima pristup vodi, električnoj energiji i drugim osnovnim potrepštinama, kako bi mogao funkcionirati i biti izvor nadahnuća laicima. Na taj se način Buddhino učenje održalo i prenosilo s pokoljenja na pokoljenje . Donacije su potrebne da bi se samostan održao.
Monaška pravila zabranjuju redovnicima da prime i upotrebljavaju novac. Stoga vas molimo da ne dajete novac direktno redovnicima.
Možete staviti novac u kutiju za donacije u samostanu, ili uplatiti donaciju na bankovni račun udruge "Društvo theravadskih budistov Bhavana" (u Sloveniji), koje je financijski skrbnik samostana.
Bankovni transfer:
Gozdni budistični samostan Samanadipa
Goljek 3,
8210 Trebnje
Slovenija
IBAN: SI56610000023637792
(Banka: Delavska hranilnica d.d.
Miklošičeva cesta 5, 1000 Ljubljana)
BIC/SWIFT: HDELSI22
Trajni nalog: Povjerenicima samostana iznimno pomaže spoznaja da u određenoj mjeri postoji redovita financijska podrška. Trajni nalog je jedan od najboljih načina da se to ostvari. Ako ste u prilici da ponudite takvu donaciju, možete to učiniti ispunjavajući trajni nalog svoje banke.
Online donacija (via PayPal):
Želim doniratiSamanadipa šumski samostan i šumske redovnike u Sloveniji.

Društvo theravadskih budistov Bhavana administrira financije Samanidipa šumskog samostana.
3. Doniranje rada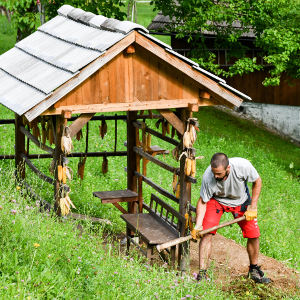 Vaša pomoć oko gradnje ili održavanja je više nego dobrodošla. Samostan uvijek treba pomoć oko:
rada u šumi: obrezivanje grana, drveća, čišćenje, cijepanje drva

vrtlarenje: plijevljenje, sadnja ukrasnog bilja, obrezivanje, košenje, grabljanje.
Redovnici ne smiju kopati zemlju niti uništavati žive biljke. No, to su radovi koji su doista neophodni u prirodnom okruženju, i zato nam je uvijek potrebna pomoć u tome.
Dobrodošla je i svaka pomoć s različitim profesionalnim uslugama i zadaćama, poput gradnje, prijevoza i administracije. Ako želite dobrovoljno pružiti podršku, molimo kontaktirajte samostan.