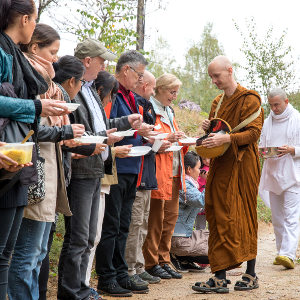 For over 2600 years, the monastic tradition has survived only through the support of other people. Monks must refrain from growing or cooking their own food, and handling money. To this day, the lay community in many countries around the world continues to generously provide monks with the basic requisites of food, clothing, lodging and medicine. They give their knowledge, service, their time and energy free of charge, dedicating their whole life to the practice of the Buddha's Teaching. People who are inspired by this support the monks in return. It is left to the good will and discretion of visitors and well-wishers to decide how they might support the work of the hermitage.
Generosity is a positive quality of the heart which the Buddha greatly encouraged for its benefits to the giver in this life and beyond. Unless they are clearly invited to do so, monastics may not ask for anything directly. They enable the monastics to continue their work of training in, and sharing, the Dhamma.
If you believe our hermitage is worthy of support, you can do so in the following ways:
1. Offering food and other items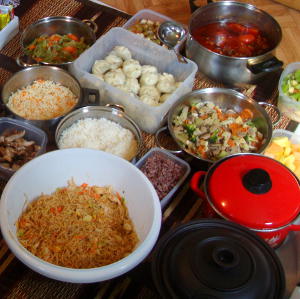 Our meal time starts at at 11am.
There are three options how to offer the meal:
If you wish to bring cooked meal, please contact us at least one day in advance. Offering food to the monastic community provides an opportunity to visit and participate in the lifestyle of the monastery. You are welcome to cook your food in our kitchen, though beware that the kitchen is simple and some people may feel awkward preparing food in a kitchen that is not their own. If that is the case, it may be easier for you to prepare a dish or several dishes ahead of time.
THE CALENDAR of lay supporters who are preparing and offering the meal.
You can offer food items which can be stored in the hermitage's pantry, so then in later time a guest could use the offerings for cooking at the hermitage. If you are livign in Ljubljana you can also give food offerings to the members of the Foundation who can deliver the items to the Hermitage for you. You can contact Shila (LJ Šiška, 031 684 942) or Nedi (LJ Center, This email address is being protected from spambots. You need JavaScript enabled to view it.).
DELIVERY FROM ONLINE SHOP: If you cannot come to the Hermitage, you might find useful another option: you could order food online and then the shop delivers food to our address (Goljek 3, Trebnje)
Dana Suggestion List
Friends of Samanadipa often inquire regarding what is needed. Please find below a list of what would help, along with things you might like to know.
Posodobljeno / Updated: 05.08.2022
The kitchen manager: Pavel
Koristni živilski izdelki / Helpful food items:
sadje / fruits
zelenjava / vegetables
kruh / (brown) bread
mleko / milk
maslo / butter
arašidovo maslo / peanut butter
sir / cheese
jajca / eggs
brez glutenska hrana / guten-free food
krompir / potatoes
leča / lentils
stročnice / legumes
fižol v pločevinkah / canned beans
kis / vinegar
oreščki / nuts
ovsena kaša / porrdige oats
muesli & granola
jogurt / yoghurt
jam & marmalade
kava / ground coffee
Ostale stvari / Other items
filter vrečke za kavo / coffee filters
britvice za britje / shaving razors
vrečka za smeti / bin liners (100/110L)
NE potrebujemo / We do NOT need:
zeleni čaj / green tea
earl grey čaj / earl grey tea
zobne ščetke / toothbrushes
milnice / soap bars
vodo / water
NEW: Posting gifts to Samanadipa from outside of the EU
If you are sending a gift from any country that is not a member of the EU please make sure that on the package is written a name of a monk and below "Gozdni budistični samostan Samanadipa." We recommend that the value of the gift is not more than €45. Taxes, duties, and a clearance fee may be due and depend on the value of what is being sent. Gifts valued at less than €45 are exempt from VAT or other charges. If the value is higher, please inform us in advance to This email address is being protected from spambots. You need JavaScript enabled to view it.. Thank you!
2. Financial support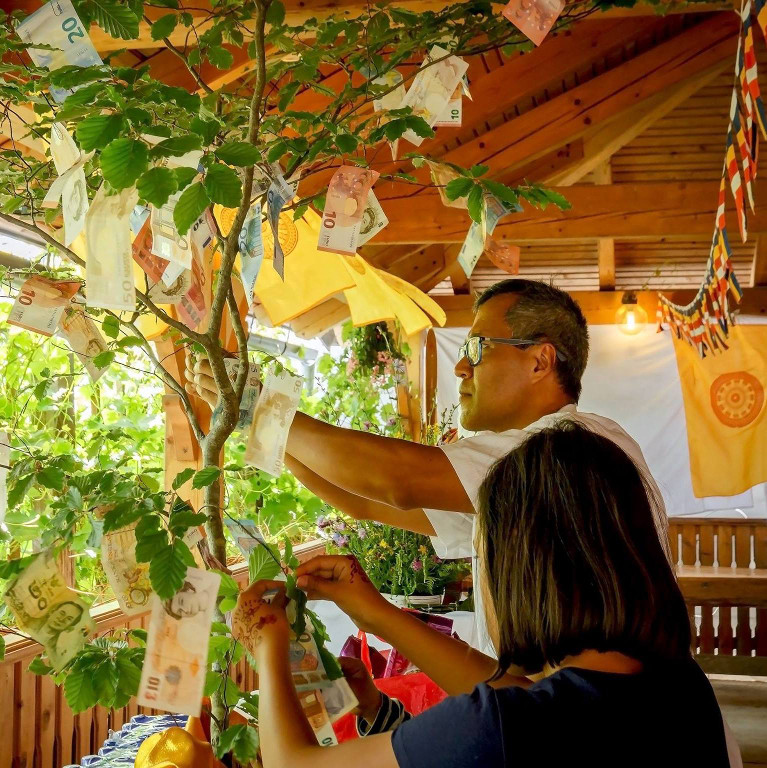 Donations allow the hermitage to have access to water, electricity and other basic requisities and provide a source of inspiration and teaching to the laity. In this way the Buddha's teachings are able to survive and thrive for generation after generation. Donations are needed for Hermitage to survive.
Monks are not allowed to accept or use money according to their monastic rules. Therefore please do not hand money directly to the monks.
You can use Donation Box at the Hermitage or you can send donations to the bank account of the association "Gozdni budistični samostan Samanadipa" (in Slovenia) which is the financial stewards of the hermitage.
Bank transfer:
Gozdni budistični samostan Samanadipa
Goljek 3,
8210 Trebnje
Slovenija
IBAN: SI56610000023637792
(The Bank: Delavska hranilnica d.d.
Miklošičeva cesta 5, 1000 Ljubljana)
BIC/SWIFT: HDELSI22
Standing Order: It is very helpful to the Monastery Trust to know that there is some degree of regular financial support. Standing orders are one of the best ways of ensuring this. If you are in a position to make such an offering then you can do so by completing a standing instruction to your bank.
Online Donation (via PayPal): I wish to make a donation towards Samanadipa Forest Hermitage and the forest monks in Slovenia.